Locating and selecting files
Opening a file you want to convert
When you have set or checked publish mode settings in the Options dialogue box, you are back in the main screen and ready to locate and convert a file.

You click the Open (Alt+O) button in the Main toolbar. The Open File dialogue box (fig. 2) is displayed, which has a familiar Windows format. On the top right, the Up one level button is available for navigation and the Views button allows you to view files in various ways. In our example, they are shown in the List format.
You select the file, and its name is displayed in the File name text box.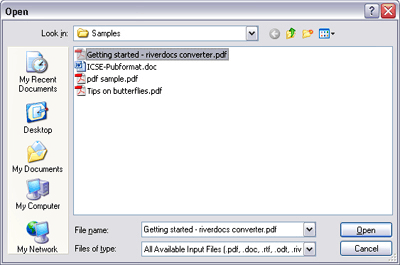 The Open File dialogue box
Note that as well as opening original files for conversion, you can open a .riverdocs project file (examples are shown below), which you can use to save work in progress by clicking Save after conversion.


Examples of RiverDocs project files, with the .riverdocs extension and the R icon.