RiverDocs Converter Features Version 1.1
Multipane editing
View the original document and open additional panes to view and edit the converted output, the table of contents, the accessibility issues list and the properties of HTML elements. You can also
zoom your view of the original document in and out
adjust the relative size of the panes with the mouse to facilitate editing
navigate page by page or go directly to the first, last or any other particular page
save your work in progress as a project file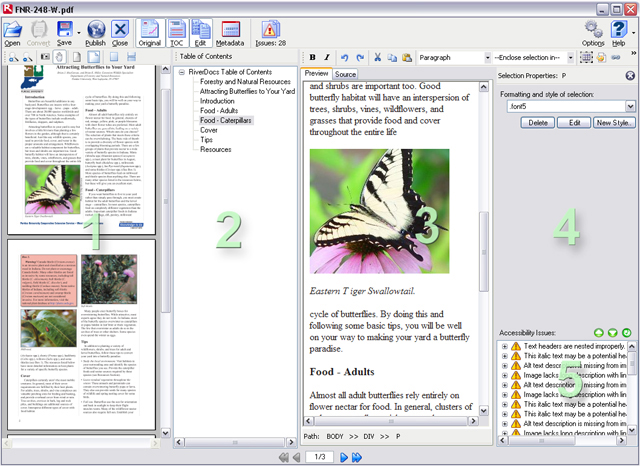 RiverDocs Converter main screen showing Original, TOC, Editing, Accessibility Issues and Properties panes
Original pane: View your original document and use screen capture to copy a selected area for editing purposes.
TOC pane: View and edit the table of contents that is generated during conversion.
Editing pane: The two tabs in this pane allow you to edit both the rendered HTML of the converted document and its source code.
Properties pane: Using the Editing toolbar and CSS Editor you can edit the properties of text, images, tables and other elements in the converted document or insert new elements and styles.
Accessibility Issues pane: View and locate accessibility issues.