RiverDocs News and Events
News
PDF to HTML converter opens up web
By Kim Thomas 23 Jul. 2007
Information World Review
"Dublin-based company RiverDocs has released a product that converts PDF files to HTML, enabling organisations to comply with accessibility laws and make web content more searchable."
www.iwr.co.uk/information-world-review/news/2194112/pdf-html-converter-opens-web
Events
RiverDocs at SOCITM Belfast 14-16 October 2007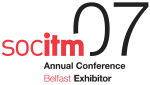 RiverDocs provides solutions that enable governments worldwide to deliver accessible versions of their existing PDF and Word documents to web users. As a leader in document conversion, RiverDocs offers the end-to-end solutions that enable government to service the accessible needs of the wider public, including those on the move.
Meet RiverDocs at stand 55 and see how your existing online documents can be presented in a structured, accessible format.
Press Releases
RiverDocs enters partnership with AbilityNet
New Partnership will enable greater scope for deployment of RiverDocs Converter
Belfast, N. Ireland – 1st May 2007 – RiverDocs, the document conversion software company, today announced that AbilityNet, the UK's leading expert charity on website accessibility and usability, will use RiverDocs Converter™ as a crucial part of its cost-effective accessible HTML document creation service.
Read more >>
March 6, 2007
RiverDocs, the document conversion software company, today announced RiverDocs Converter™ – the world's first technology solution that converts documents intended for print such as PDF and Word quickly and easily into structured and accessible HTML documents for web publishing. The new software from RiverDocs enables Governments, corporates and web agencies with an easy-to-deploy and use solution to convert documents into fully web-accessible HTML for easy online consumption and compliance with Web accessibility legislation.
Read more >>
In the News
RiverDocs reviewed by Web Accessibility Expert
The following is taken from a product review by Dan Champion
www.blether.com/archives/2007/05/review_riverdoc.php
Disclosure: This was a paid review. RiverDocs Limited had no influence on the tone or content of this review
An essential tool for any organisation which publishes Microsoft Word or PDF files online, RiverDocs Converter is vastly superior to any other conversion software currently available. There's now no reason for publishers not to offer accessible, high quality HTML versions of documents previously published only in proprietary formats. The parser even compensates for poorly authored source documents, previously a significant barrier to producing accessible, semantic HTML versions of Word and PDF documents.
Lawyer warns that PDFs fail on accessibility
01 May 2007 Internet World Conference, Earls Court, London

news.zdnet.co.uk/software/0,1000000121,39286920,00.htm
At the conference RiverDocs demonstrated how easily your PDF documents can be converted into Accessible HTML.
www.internetworld.co.uk/usability-accessibility.html

BBC, 25 Apr 07, 10:24 AM
Preaching to the converted By Paul Crichton
A new desktop utility called the RiverDocs Converter, has been released that promises to convert your inaccessible documents designed for print, into a structured and accessible format for delivery online.
Documents are typically delivered online in PDF format. In many ways, this format is unsuited for the web. PDF files are notoriously difficult to make accessible, and are not especially user-friendly to anyone. This new tool should be very welcome as it makes the process of providing an alternative much easier than ever before.
http://www.bbc.co.uk/blogs/access20/2007/04/preaching_to_the_converted.shtml
IT Week, 07 Mar 2007
Document conversion boosts accessibility

RiverDocs Converter changes documents on web sites into more accessible HTML versions.
Read more here: http://www.itweek.co.uk/itweek/news/2184925/document-conversion-boosts
Netimperative 07-03-2007
New software converts documents into web pages
Software firm RiverDocs has launched a tool that converts documents intended for print such as PDF and Word into structured and accessible HTML documents for web publishing.
Read more here: http://www.netimperative.com