Add Web Document Compliance
and Improve Workflow
RiverDocs Converter Enterprise Edition™
RiverDocs Converter Enterprise Edition is the solution for organisations that need to publish substantial numbers of document files online and want a conversion tool that will allow them to achieve WC3 or 508 accessibility yet is simple enough to be used across departments.
The Enterprise Edition has three components, the Contributor and Editor clients (illustrated below) and the RiverDocs TeamServer module, which work together as follows:

RiverDocs Converter Contributor is designed to slot into the document handling workflow to permit rapid conversion and basic editing, with the possibility of forwarding especially complex documents to specialist staff equipped with the Editor client, which has more advanced editing features. The Contributor has a wizard-style user interface that streamlines the editing task.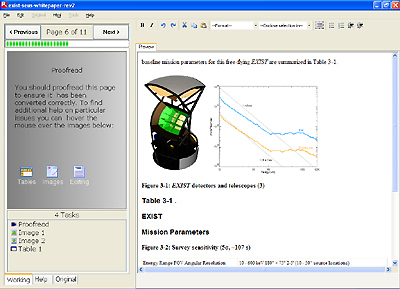 Wizard-style Contributor client after conversion of a document. On the left, the Working tabbed page displays advice and tasks.
A series of screens guides the user through the conversion and editing process step by step, concentrating on the most common accessibility edits. On-screen advice minimises the need for technical knowledge.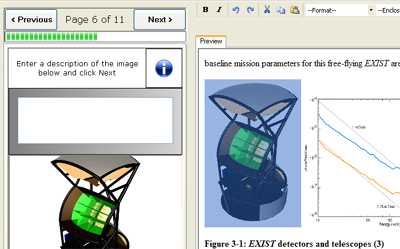 An accessibility editing step in progress on the RiverDocs Contributor interface – an image is selected automatically and a message tells the user to enter alt text for it.
Contributor users publish finished documents to the content management system as HTML or save them as .riverdocs files. They can forward .riverdocs files to Editor users for publication.
The RiverDocs Converter Editor client is designed for advanced users and has a fully featured graphical user interface for advanced HTML editing on a WYSIWYG or code basis. It also provides CSS editing and a range of processing and publishing options. It can be used either independently or to complete processing of documents received from Contributor users.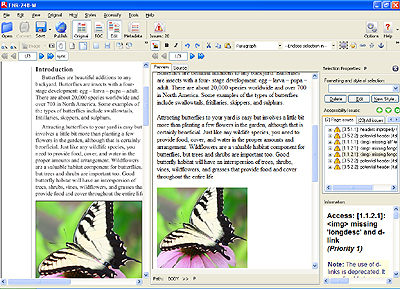 Editor client after conversion of a document
The RiverDocs TeamServer module runs in the background, carrying out integration and management tasks. TeamServer can also be customised to carry out batch processing.